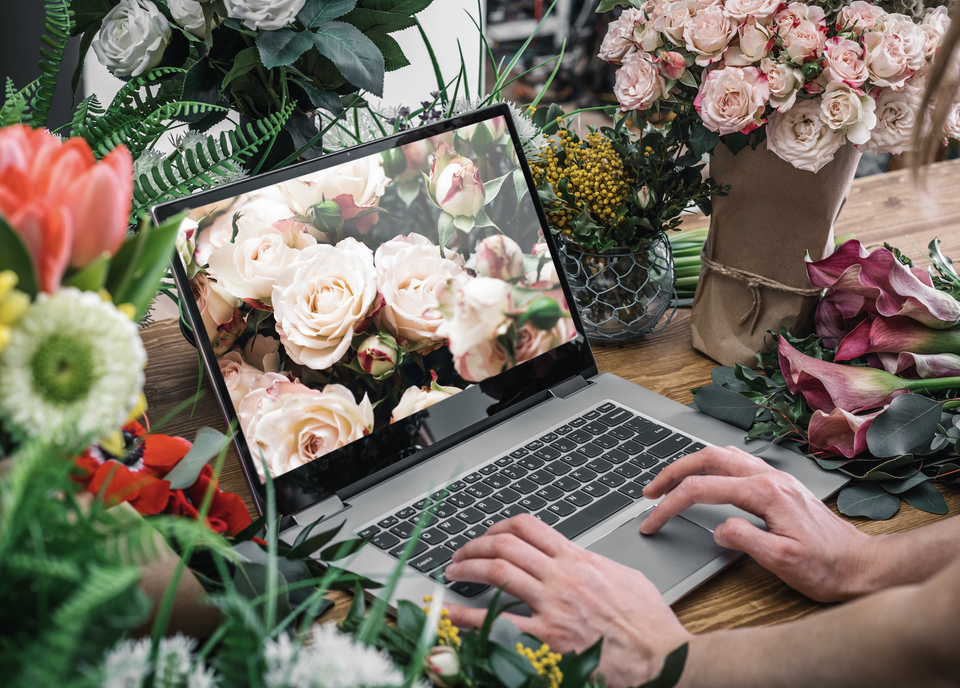 10 Businesses that Need a Website this Spring (and the Themes You Can Use to Build Them)
Published on March 28, 2022
Just like all businesses need a name or phone number, every business also needs a website. For a web designer, this means there is a never ending supply of prospective clients to sell your services to. But, with every business being a potential customer, how do you decide which businesses to target first? And, if you are just starting out your web design business or trying to branch out from the niche market you currently serve, you may not know where to begin.

To help identify what businesses need a website right now, you can think seasonally. There are certain companies that are gearing up in the spring so they are ready for their peak season.

Ready to start prospecting? Here are ten businesses that could benefit from your web design services this spring.
1. Plant Nurseries and Flower Businesses
Spring is a time for growth and new beginnings, and nowhere is that more evident than in the natural world. As the cold of winter subsides, flowers start to bloom, and gardens show new life. People begin to think about making the most of their outside space in preparation for warmer weather.

For plant nurseries and garden centers, this is when they can expect a spike in their business. People are planning to spruce up their shrubberies, liven up their yard with beautiful flowers, or replace plants that didn't make it through the winter. If a small business offers anything for a garden, now is the perfect time to target this market. They need a way to capitalize on their busy season, and a website is the perfect solution.

Similarly, florists and flower delivery services can expect big business in the spring. With holidays like Easter, Mothers Day, and Fathers Day within a few months of each other, flowers will be in high demand. As a result, small flower businesses need a website ready to meet demand and stand out from the competition.

Similar to the other SiteSwan website designs, our Garden Center and Florist themes are visually appealing, include multiple pages of content and are easy to customize for any client in these industries. 
2. Travel Agencies
With the year in full swing and the major holidays a distant memory, by spring, many people are thinking about warmer days and how they are going to spend their summer vacations. For this reason, travel agents are well sought out during this time of year.

With all the new and changing travel protocols brought on by the COVID-19 pandemic, people are using travel agencies now more than ever before to help them stay apprised of what they need to know before they go and help make all the arrangements. Whether planning a staycation or going abroad, travel agencies get busy during the spring, making it all the more reason they need to have a website to showcase their services.

Check out our Travel Agency website theme. With just a few clicks, you are ready to pitch to your next client in this occupation.  
3. Personal Training Services
As the old saying goes: summer bodies are made in spring!

After the long dark winter months, people are motivated to shed a few pounds. Everyone wants to feel comfortable and confident going into bathing suit season, which means they're ready to put the work in and hire a personal trainer.

Personal trainers, fitness instructors, and others in the exercise industries need to be prepared to monopolize the increase in business and get their website in tip top shape.

For this line of work, we offer a theme specifically for Personal Trainers.
4. Bakeries and Cake Businesses
Springtime is full of holidays, special events and parties, and what better way to celebrate than with sweet treats. Cakes, pastries, and confections are staples at celebrations with friends and families from birthdays and graduations, to weddings and baby showers.

During the preparation and planning process, people often search online for inspiration and ideas, especially when it comes to something as important as the cake and desserts. If a business doesn't have a solid online presence and professional website, it'll get lost in the competition. Word of mouth just isn't enough these days!

For bakeries, a website showcases samples of their previous work, menu options, customer reviews, how to place an order, and overall builds trust in their brand. Getting a website ready for this type of business in the spring will make the busy summer season a piece of cake.

Your next client with a Bakery or Cake business will be sure to love this website design theme! 
5. Veterinarian Clinics & Pet Services
Many people choose springtime to welcome a furry addition to their family. This gives them the whole summer of warm weather to be outside and create lasting memories with their new pet. With more families owning pets, this means an increase in work for veterinarians, groomers and other pet related services.

Especially in the beginning, families typically bring their new pets to visit the veterinary office to be checked for good health and to be administered vaccinations. As a member of the family, they want to know their pet is in good hands and that they can trust the person caring for their animals.

Additionally, for farms and agricultural breeders, spring can mean the arrival of lots of new livestock resulting in veterinary assistance for births and newborns. For these reasons, it is crucial for practicing veterinarians to have a website that clearly displays their services.

Have a potential client in mind? Start building your first site today with any one of these SiteSwan pet related themes: Pet Shop, Animal Clinic, Pet Waste Removal, Dog Breeder and Pet Groomer.
 
6. Wedding-Related Services
Love is in the air! With blossoming flowers and warm weather, many couples opt to say their "I do's" during the colorful spring months.

For professionals providing wedding-related services, they'll need a website that highlights their business, the services they offer, and customer reviews. Many brides and grooms book these services months and even years in advance so it's crucial for any business professionals that provide services in the wedding industry to have a beautiful website to help build their business, brand and reputation in the years to come.

With SiteSwan, you can help Photographers, DJ's and Entertainment Companies, Photo Booth Rentals, Catering & Event Planners, and Car & Limousine Services bring their A-game in the peak wedding season using our website design themes.

Bonus: Check out our Wedding Couple Theme - perfect for that happy couple to put their special day on display for all their invited guests. 
7. Construction & Home Improvement Services
Many people opt to have work done on their homes in the spring months in preparation for summer. Local construction businesses, home improvement companies and solo entrepreneurs tend to rely on customer referrals and word-of-mouth for new customers. While this isn't a bad strategy, it's incomplete without a good website to direct people to.

When doing research, people will be looking for specific information to help them make their decision and start their search online. Viewing descriptions of the services offered, testimonials from previous clients, examples of their work and information about the company are all part of the selection process for many customers. A great website will bring all of this together in one place and make it easy for clients to see why their business is the best option.

Have a potential client in mind? SiteSwan has website design themes for General Contractors, Plumbers, Handyman, and other home improvement services that you can customize in no time.
8. Cleaning Companies
Time for spring cleaning! Cleaning up your house or office space can be an overwhelming task. From dust bunnies to cobwebs on the ceiling, there's so much to be done. And with spring allergies, viruses and other germs are still very prevalent during this time of year. As a result, cleaning companies are in high demand.

Many entrepreneurs are capitalizing on this demand and starting their own private, locally-owned cleaning companies. And like any new business, they need a website! We offer several different cleaning-related themes to choose from, including our Residential Cleaning and Commercial Cleaning website themes.
9. Outdoor Living
As people continue to take on home improvement projects, it's not just what's inside that matters. Many homeowners are preparing their outdoor space for entertaining guests and backyard gatherings. Many small businesses in this field of work tend to rely on things like lawn signs and car magnets for their advertising. However, if you can show them the benefits of having their own website, like those we've discussed here, they could become loyal and satisfied clients for your agency. Bringing their business online can greatly improve their marketing efforts and exponentially grow their business.

Take advantage of this prime time to pitch your web design services. We have ready-to-sell website design themes for a wide variety of outdoor living related products and services including Landscape Designers, Patio & Driveway Masonry Contractors, Screened Enclosures, and Sheds & Portable Buildings.
10. Food Trucks 
In recent years, food trucks have become increasingly popular. They offer a variety of food options and convenience. Plus, the novelty of buying food from a truck appeals to people of all ages.

Food trucks are particularly popular at concerts, fairs and outdoor events. With outdoor events "springing" up, this is the perfect season for food truck owners to grow their businesses. With a professionally designed, mobile-friendly website, they'll have the edge over the competition and allow page visitors to view information about their operating hours, where they will be selling their food and how to book their food truck for an event.

Preparing a website for a client who owns a food truck business? No problem! Check out our Food Truck design theme. 
What Kind of Businesses Need a Website?
The best answer is all of them. There are potential clients everywhere. But as the Spring season begins, consider focusing your agency's marketing efforts on the industries mentioned above. As long as they are selling a product or services, they should have a website to further promote their services and products online to help their business soar.

Click here to view our full selection of website Themes.

To learn how to get started running your own website design business with SiteSwan, schedule a free demo of our platform.
We'd love to hear from you!
Share your comments or questions using the form below.