Reviews & Customer Success Stories
We are dedicated to your success. We've helped over 1,800 agencies, designers, and entrepreneurs all over the globe grow their web design business. Here are just a handful of customer reviews, case studies and success stories.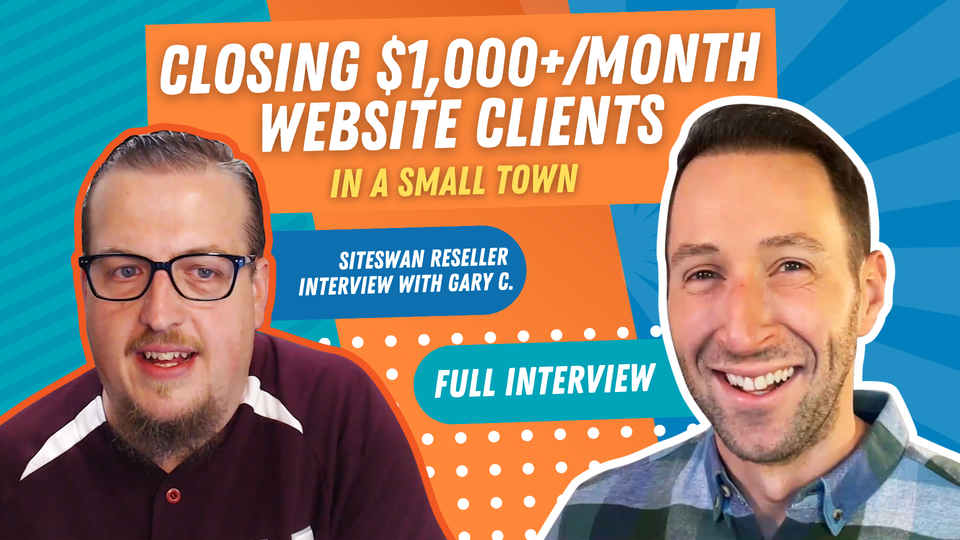 Closing $1,000+/month Website Clients in a Small Town
SiteSwan Reseller Interview with Gary C.
Overview
A mere two years ago, Gary embarked on a significant life transition, relocating his family of seven to a quaint town in Georgia to answer a pastoral calling. However, this calling came with a notable financial adjustment. Faced with a reduced salary, Gary turned not to compromise but to creativity, seeking a supplementary income that would enable him to embrace and sustain his cherished pastoral role.

Enter SiteSwan. After signing up and immersing himself in the comprehensive training provided, Gary swiftly established a burgeoning client base and a steady stream of recurring revenue. All of this, achieved within part-time hours, has evolved into a family-involved venture. Gary is not only scaling his business and broadening his service offerings but also nurturing it into a lasting family legacy, envisioned to endure beyond his own tenure.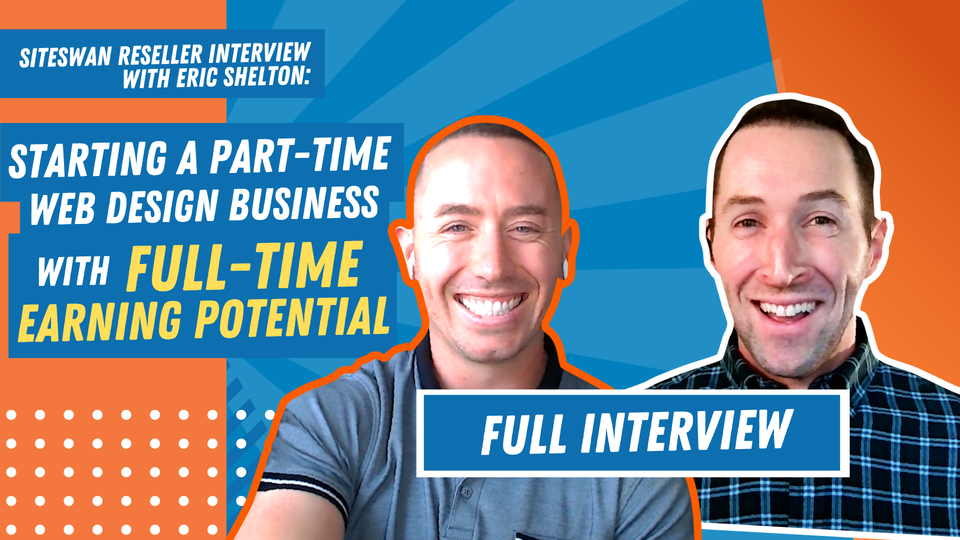 Starting a Part-Time Web Design Business with Full-Time Earning Potential


SiteSwan Reseller Interview with Eric Shelton
Overview
SiteSwan's Co-Founder, Justin Gerena, recently sat down with Eric Shelton, a SiteSwan reseller, who has sold close to 100 sites, working exclusively part-time. Eric devoted his time off from work to build up his side hustle which is on the verge of offering a full-time income.

Eric is by no means a web design guru, but he is an expert at working hard and hustling. He's got drive, he's got ambition, and he's got laser focus, tactfully choosing his potential clients with phenomenal precision, which has allowed him to scale to some pretty impressive levels. And he's done it all with just a part-time commitment.
How He Sold Over 150+ Websites with No Prior Experience!


SiteSwan Reseller Interview with Zach Hansen
Overview
Faced with a decision and a family to support, Zach Hansen traded in his full -time job at a phone book company for a career running his own web design business (Surge Web Design) and found his own path to success. 
In his three years as a SiteSwan White Label Reseller, Zach has more than 150 clients, is selling multiple services to his clients, and is making more money than he ever thought he would. For years, Zach worked for someone else now, he runs his own successful business and there's no turning back.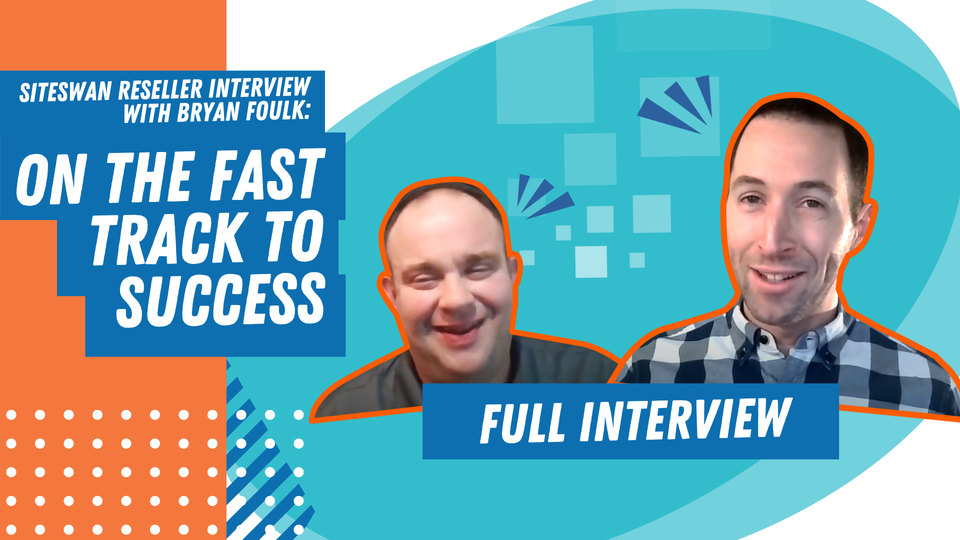 On the Fast Track to Success Just 30 Days In


SiteSwan Reseller Interview with Bryan Foulk
Overview
With a full-time insurance job, a large family and a new house, Bryan Foulk still made time to start his own web design business (Gulf Coast Web Pros) and got off to a really fast start.

In just 30 short days of using the SiteSwan Platform, he took a dream and turned it into reality, selling 3 websites to local small businesses, and building up his recurring revenue, he utilized timeless, creative sales techniques and a passion for helping others to propel his success.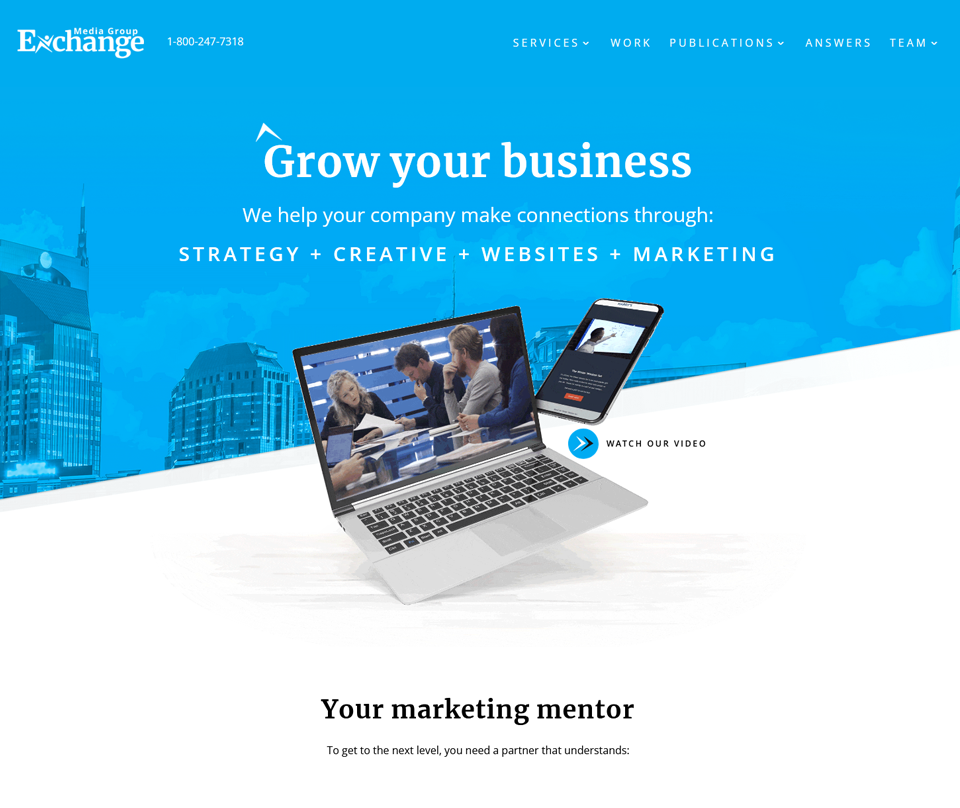 Exchange Media Group uses SiteSwan to Make Local Connections and Control the Marketing Conversation with Their Clients


Case Study by Jim Haigh
Overview
The family owned Exchange Media Group is proudly primed for their 40th Anniversary. The publishing company that Will Thomas and sister Katie McNabb's father, Bill, founded in 1979 "to connect buyers and sellers" is successfully weaving together the print and digital landscape of the communities they serve. Today they are "making connections" exponentially, and the future looks brighter than ever.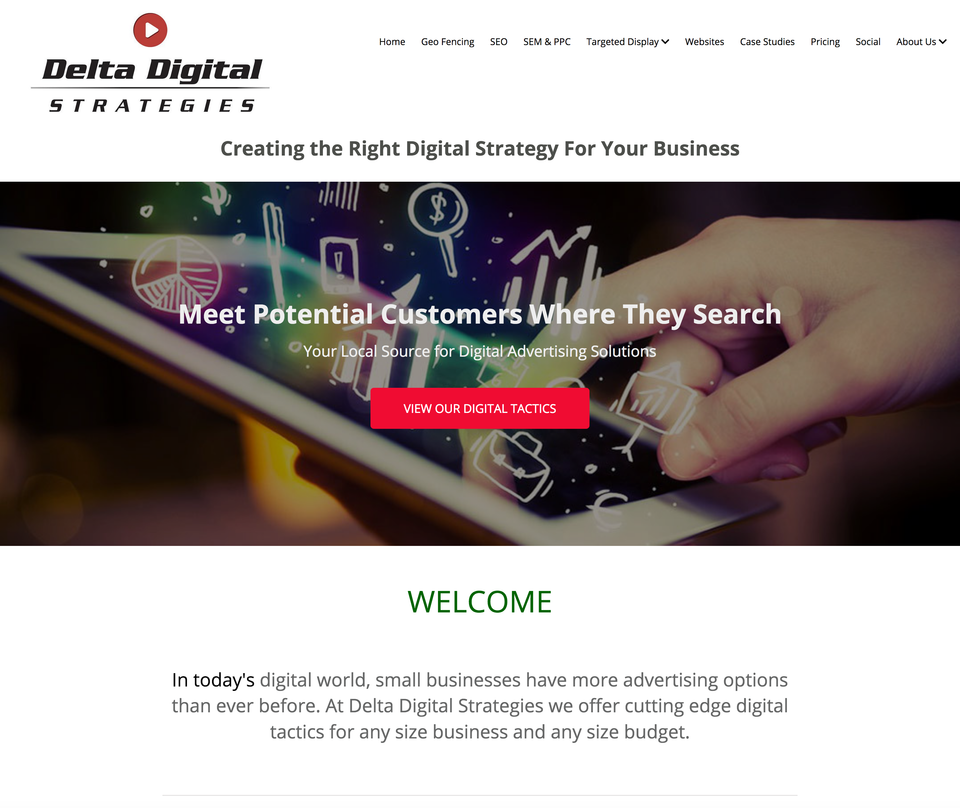 Delta Digital Strategies uses SiteSwan to Grow their Business Beyond Print


Case Study by Jim Haigh
Overview
The Mathes brothers, Joe and Mike, grew up with printer's ink in their veins, working together as kids at their father's newspaper. They founded Delta Publications in 1988, with strong growth in their first 20 years, but found themselves face to face with an advertising sales wall during a sudden, steep national decline in print ad sales. By embracing SiteSwan, they discovered other digital solutions – tools that helped them break through that wall and justified starting a digital agency sister company with responsive website design revenue at its core.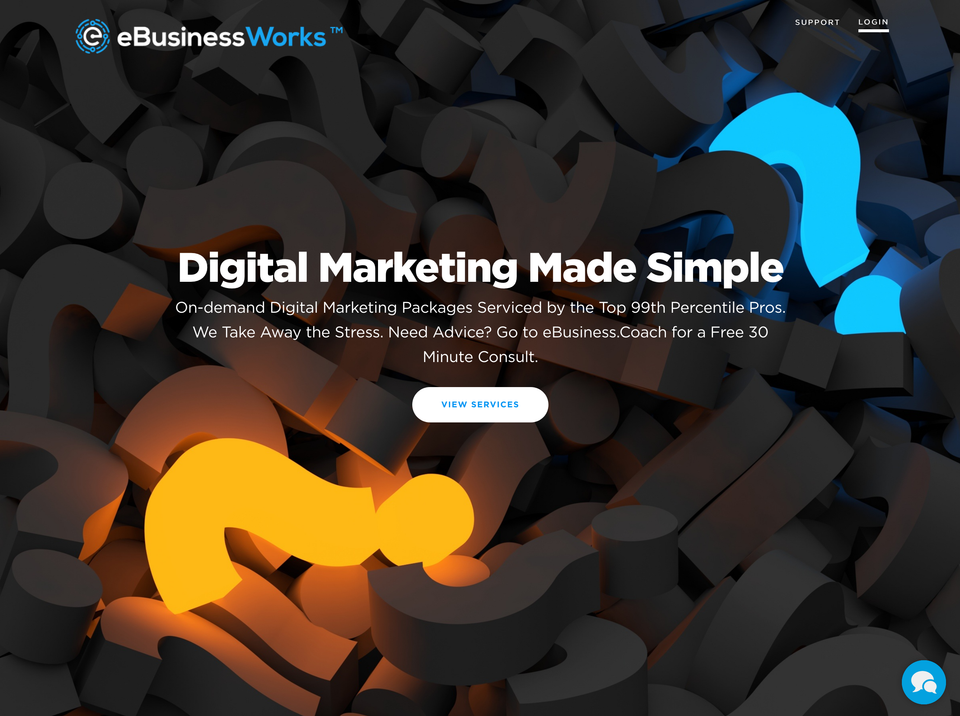 eBusiness.Works uses SiteSwan for Freedom, Family and Faith


Case Study by Jim Haigh
Overview
A Christian family man from Texas, forced into a career change, discovers SiteSwan as a way to make a great living helping small businesses thrive online. It's a compelling story about how a preacher turned into a White Label Website superstar, while staying grounded in family and faith, and finally discovering the freedom to do what he wants, when he wants.
Genesee Valley Penny Saver Revitalizes on 70th Anniversary as a Full-Service, Data-Driven Agency with SiteSwan


Case Study by Jim Haigh
Overview
In only their first 9 months as a SiteSwan Website Builder white label reseller, the Genesee Valley Penny Saver has significantly enhanced their customer relationships. Having already designed over a dozen engaging and effective websites, with even more in production, the family-owned publishing company founded in Avon, New York back in 1948 has, "rapidly evolved into a one-stop solution for our local businesses," reports Marketing Manager, Mary Shepard.
SiteSwan Customer Reviews
★★★★★
"I just wanted to thank the folks down there at SiteSwan. I never thought a good ol' boy like me could learn all that techie mumbo jumbo, but guess what? I'm doing it thanks to Site Swan's easy to use platform. Again, thank you SiteSwan for creating an avenue for folks like me to have an additional stream of income."
-
B. Foulk (Alvin, TX)
★★★★★
" I was looking for a new business venture in Summer 2015. I came across SiteSwan and decided to give it a try. I'm so glad I did. Within the first month, it not only paid for itself, but I had a very nice profit. Since then, I have grown my business, using the SiteSwan platform exclusively, to a thriving website design company. Before that, I knew very little about the industry. With a little time and effort, anybody can do this. The sky is the truly the limit. I can't say enough about how happy I am with SiteSwan. I'm a lifer! "
-
D. Black (San Francisco, CA)
★★★★★
" I made my first sale this morning for a local dance studio, just one day after signing up with SiteSwan. What sealed the deal was the ease for the client to update their own site. I showed them how they would be able to make their own updates and they loved it. They have their website with Hibu now, and they have to call in every time they need a change, because the system they use is too difficult for them. They loved how easy the SiteSwan system is. "

- Bill J. (Naperville, IL)
★★★★★
" Getting started with SiteSwan couldn't have been easier. The system is so simple, anyone can learn it very quickly. Every business needs a website, and I'm helping solve that problem while turning a nice profit with recurring income. 200+ sites later, I'm very happy, and continuing to grow. "

- Mitchell W. (St. Louis, MO)
★★★★★
" This was my first time doing web design, and the SiteSwan staff provides fast, robust support to make me look like I've been doing this for decades! After starting this business, I moved across the country TWICE and took this business with me wherever I went. The flexibility and simplicity of this business model is superb. I would recommend SiteSwan to anybody who likes meeting new people and helping them with their business. "

- C. Jackson (Tampa, FL)
★★★★★
" Thank you for taking the time to answer all of my questions. I do appreciate it all and also wanted to give a huge thanks for you and your team on building an incredible opportunity for people like myself, I really do value that and keep up the ridiculously good work. "
- Kelvin M. (Apopka, FL)
★★★★★
" Just wanted to let you know how very pleased I am to be a SiteSwan customer. I am very happy with all the upgrades and things you can do within the platform. It has expanded greatly and I appreciate that you listen to your customers and implement customer input. My sales are getting easier and more customers are coming aboard and websites are being created with ease. Just wanted to thank you once again for your hard work in developing the platform. "

- Robert C. (San Antonio, TX)
★★★★★
" I just wanted to say that I love using SiteSwan and the team is fantastic! I have been a web designer for a number of years and have used so many different types of software/platforms, but none of them compare to SiteSwan! I have been a SiteSwan customer for the last 3 years. Their prospecting tool is ingenious! I love how easy it is to build sites and love that my clients can log in and make changes on their own. I always can't wait to see their latest updates in the software and their new features! Best of all their tech support is top-notch! They always respond in a timely manner which is so appreciated this day in age when timely and easy customer support is usually something most companies fail at. Overall I have enjoyed much success using their platform, and will continue to be a long-time customer! Thanks again guys!
- Kate N. (Santee, CA)
★★★★★
" Well, you guys are really awesome and I appreciate all the help you give me. It's a good feeling to know I'm in business by myself but I have a team behind me for support and guidance. Thank you sooooo much !! "

- Christine P. (Gautier, Ms)
★★★★★
" Exemplary training videos. Informative, concise and very insightful. Well structured too. "

- Steve B. (Oklahoma City, OK)
★★★★★
"
I just can't believe y'all built such a user friendly platform that enables dreamers like myself limitless options for future opportunities.  You've changed my life and for that I am eternally grateful.
"

- Gary C. (Thompson, GA)
Leave a Review!
We value the feedback of our customers and are always looking for ways to improve our platform!
Tell us what you think using the form below.