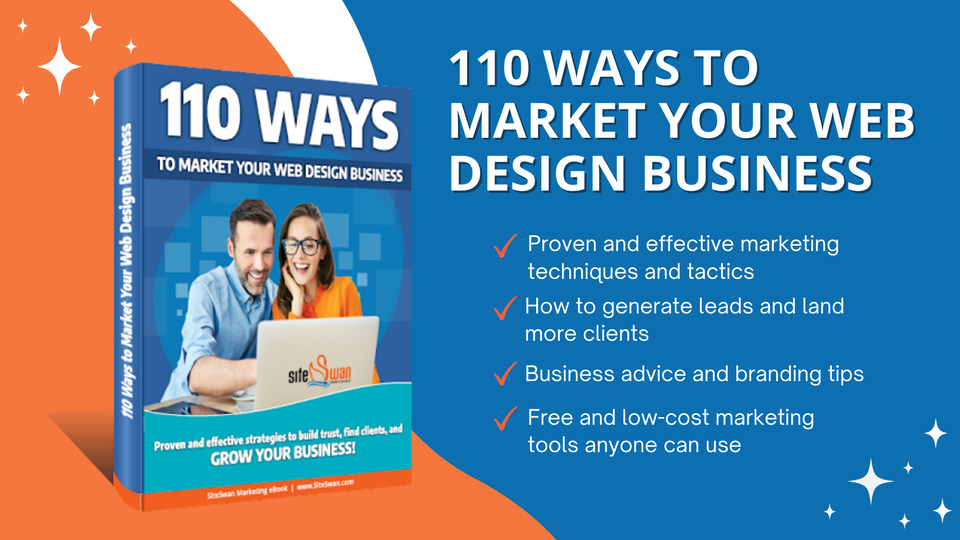 110 Ways to Market Your Web Design Business
Published on March 17, 2022
Becoming a web designer is not just about building great looking websites. Marketing your web design business is an extremely important aspect of promoting your brand, finding clients and ultimately scaling your business. But finding affordable and effective ways to market your web design business can often be a challenging task. Don't you wish there was a better way? Well, your wish has been granted. We've compiled a list of 110 smart, effective and even free ways to market your web design business and produced this easy-to-read eBook.
110 Ways to Market Your Web Design Business eBook
The 110 Ways to Market Your Web Design Business eBook was designed to expose SiteSwan Website Resellers to new and different ways they can promote their business. This one-of-a-kind resource for web designers is filled with clever, proven and effective strategies to build trust, find clients, and help you grow your business.

Throughout the eBook, you'll find bonus tips and links to other articles and resources that will help you spark your creativity and put these tips into action.

Whether you're just starting out as a new SiteSwan Reseller or have been building websites for years, this eBook will help you take your business to the next level.
 
In this eBook you will discover…
✔️  Proven and effective marketing techniques and tactics

✔️  How to generate leads and land more clients

✔️  Business advice and branding tips

✔️  Strategies for building credibility and earning your clients' trust

✔️  Opportunities to tap into and grow your personal network

✔️  Free and low-cost marketing tools anyone can use
From Inside the eBook: 10 Sample Tips
Here is just a sample of some of the tips featured in the ebook. Login to your SiteSwan Dashboard or sign up to become a Reseller to get all 110 today.
1. Come up with a good name for your agency.

A good business name can help you build credibility, increase brand recognition, and even impact search results. To get started, brainstorm potential names, try different combinations, do your research, and ask for feedback from people you trust. Take time during the selection process; it is an important decision to make.
2. Focus on your local market.
Even if your goal is to expand to nearby areas, it's much easier to focus your marketing efforts on a smaller geographic area to start, rather than trying to appeal to the masses.
3. Always offer a FREE design demo.
What's more effective than showing clients examples of other sites you've built? Offer to create a customized site for their own business. This is one of the most effective ways to sell websites using the SiteSwan Platform and will show your prospects a "preview" of what their new website can look like. Use our Themes to create a fully-functional website in seconds, personalized for their business. Be sure to include the business's logo, brand colors, images, etc. This can help you stand out, earn their trust, and prove the value of your services.
4. Use the Local Prospecting Tool.
The SiteSwan Local Prospecting Tool enables you to search and find businesses in your area that do or don't have a website. You can even use the tool to determine if a website is not secure or not mobile optimized.
5. Advertise where your customers are.

Look for unique opportunities to promote your web design services. For example, if you cater to building websites for daycare facilities, look for parenting Facebook Groups to join where you can advertise your web design services to the businesses participating in the discussions.
6. Pitch new and improved websites.
While on the hunt for your next client, don't be so quick to rule out businesses that already have a website. Sometimes, these are the best leads because they already know the benefits of having a website…you just need to show them why they need your services and how you can make their website better.
7. Join a local Chamber of Commerce.
This not only gives you the opportunity to rub shoulders with local business owners and sell them a website for their business, but joining a Chamber of Commerce also gives you credibility as a fellow business owner in your community. Chambers of Commerce meetings are one of the best places to network locally.
8. Utilize social media.
Social media is an effective and free way to promote your web design business. Create a Facebook Page, Linkedin Profile, Twitter Account, Instagram Handle, etc. for your web design business. Use it to promote your brand, highlight your services, feature samples of your work, post relevant content, and connect with small business owners.
9. Build up your portfolio.

Showcase your best work. Rather than displaying examples of every site you build, create a brief portfolio of just your best work. Use these to show off to potential clients when asked about other sites you built or use for client references.
10. Host a local seminar or workshop.
Invite small business owners to the local library, a diner, or even your office to educate them about ways to promote their business and the importance of a strong online presence (and be sure to plug information about your web design services).
Get Your Copy of the eBook Today!
The 110 Ways to Market Your Web Design Business eBook is exclusively available to all our active website Resellers and can be viewed in the resource section of the dashboard.

Like what you see? Get started today with SiteSwan and you too can gain access to all 110 marketing tips! 
We'd love to hear from you!
Share your comments or questions using the form below.