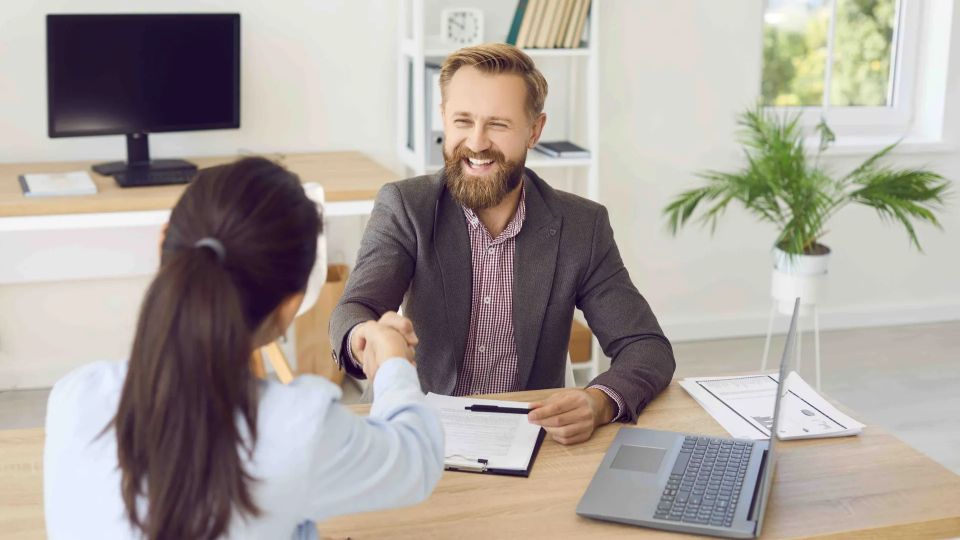 17 Tips to Get More Clients for Your Web Design Business Fast
Published on August 8, 2022
If you own your own web design business, then you know that securing new clients can be difficult at times. Even if you're extremely skilled and experienced, it still takes time to win over potential customers and convince them to work with you. Landing more clients is the only way to keep your business going strong and although it can be a tedious task, with the right approach, it can also be easier than you think.

Since you are competing with other freelancers and web design agencies all over the world, you'll want to identify ways that you can stand out against your competitors and attract clients to your web design business. If you are struggling to get new business or want to know how to find new clients once you're ready to expand, we've outlined 17 ideas that will help you attract a full pipeline of new customers fast!
1. Use SiteSwan's Local Prospecting Tool
SiteSwan's Local Prospecting Tool is one of the smartest and most effective ways to find new web design clients. Built directly into the SiteSwan Platform, the Local Prospecting Tool enables you to find your next client by discovering which businesses in your area do or don't have a website. You can drill down to specific industries by using the keyword search option or simply leave it blank to browse all businesses in your area. SiteSwan's Local Prospecting Tool delivers a long list of nearby businesses complete with their contact information and whether or not they currently have a website.

Remember when looking for web design clients, don't rule out businesses that already have a website. They might be interested in a redesign or currently have a website that is not secure in which case they could greatly benefit from your services. 
2. Explore Online Marketplaces and Job Boards
Online marketplaces and job boards  like Upwork, Freelancer, and Craigslist are great places to attract your next web design client. Craigslist in particular, can be very effective when targeting small businesses with a limited budget.

To get started, post an ad in the "services > computer services" section of Craigslist for your local market. Keep your ad simple, short and concise. Highlight your affordable prices, friendly local service, and a few links to example sites you built, along with a way for interested prospects to contact you for a FREE design demo.
3. Polish Your Own Website
Your own agency website is one of the best examples of your web design skills and capabilities. Make sure that it looks professional, it's easy to navigate and is mobile friendly. Moreover, it needs to be optimized for search engines like Google. Each page should have the proper meta tags and you should submit your site to search engines.

When you become a SiteSwan Website Reseller, we provide you with a professional marketing website to promote your web design business, attract customers, and generate leads. You can customize it for your own brand by uploading your logo, replacing images and changing colors. Be sure to include your website address on all of your marketing material as well as social media. 
4. Network at Events
Every event you attend is an opportunity to meet prospective clients and expand your network. After the pandemic outbreak, the need for real-life conversations to build long-lasting relationships has become even more important and you could use that to your advantage.

You  must also take initiative to find events that would benefit you. For example, if you are a web designer who specializes in the restaurant industry, the next local food convention might be a great place to stop by. Another great opportunity to network with local businesses is through organizations such as your local chamber of commerce or kiwanis club.These groups host events monthly where members can mingle with one another and offer their services.
5. Use Lead Magnets
A 'lead magnet' on a website is an incentive that entices site visitors to share their contact information in exchange for something you are giving away. This is largely done by offering exclusive material such as eBooks, marketing tips, free consultations, or other perks and giveaways. For example, as a web designer, you can offer a free website assessment or homepage design for anyone who submits their information.

Following up with leads after they accept your lead magnet is crucial. Whether it's automated through email, or with a personal phone call, it's important to make contact and establish a relationship with the prospect so you can build trust and offer your other services. Giving away something for free in the beginning can lead to something very fruitful in the future.
6.  Establish a Strong Social Media Presence
An efficient social media strategy is an integral part of digital marketing as it showcases your personality and brand as an authoritative voice in the field. Social media platforms like Facebook and LinkedIn are great places to start. Create accounts for your agency and start posting regularly.

While Facebook and LinkedIn are perfect for attracting local businesses, you can expand your reach even further with platforms such as Instagram or even TikTok. As the list of social media platforms continue to grow, so do your opportunities for finding your next web design client.
7. Pick up the Phone
Phone sales is a highly effective way to gain new clients. Although cold calling often gets a bad reputation, with the right training and strategy, selling websites over the phone can allow you to accumulate a large database of paying clients. Small business owners in particular tend to be very receptive to phone sales.

You can target specific industries or markets and typically cover more ground and speak to more prospective clients with cold calling compared to knocking on doors or other marketing methods. The trick is to be patient, proactive and consistent with your efforts.
8. Identify Your Niche
In a market that is saturated with general web designers, specializing in a particular niche, that is, becoming an expert in that field works wonders. Refining your services around one area allows you to attract a specific target audience who is more likely to hire you.

For example, if you are a 'freelance website designer for the restaurant industry', employers in that industry will be impressed by your experience and knowledge of the industry and are more likely to hire you than a general freelancer. Knowing what you enjoy, viewing a list of industries in high demand, and/or checking out SiteSwan's Website Themes can help you identify a niche that works for you.
9. Pursue Every Lead to its End
One common mistake most freelancers make is dropping a lead after a couple of failed attempts. The key is to not give up on a lead. Even after a few unanswered correspondences, it's still worth the time to keep them on your list before you completely disregard them.

Even if you are cold emailing or calling someone, do not hesitate to send a follow-up. Projects may go on the back burner as the businesses get busy or distracted, but your enthusiasm and consistent marketing efforts could be what make you top of mind when they are ready to begin their next project.
10. Craft Search Friendly Content
With so much information available online, people strongly rely on searching for the answers they need, and so ranking high on search engines such as Google can be challenging. Creating meaningful content via blog posts, infographics, podcasts, interviews with leading professionals, and other such mediums are efficient resources to gain traffic and create recognition.

As a web designer, you should focus on content that appeals to your target market. Crafting blog articles that discuss small business marketing tips or the importance of  a strong online presence are great topics that can attract local business owners. If creating content is not your strong point, you may choose to hire a freelancer to assist with these marketing elements. 
11.  Utilize Email Marketing
Cold emails may have a bad reputation but if done right, they are highly impactful and can stand out among other emails in a client's inbox. Identifying potential targets such as leading business owners and conducting the needful research to gather their email addresses are the first steps.Then coming up with clever subject lines and engaging copy is the key to getting your emails read.

To spark their interest, look for potential improvements in their current website, and present this information to them in a non-scrutinizing email. Better yet, offer to redesign their website design starting with a FREE demo design.
12. Make Public Appearances
You need to put yourself out there to establish your credibility and spread the word about your business brand. Speaking at special events affords you the opportunity to make yourself known to more people. These events can be hosted locally through your library, B2B networking groups, or chamber of commerce.

You can even look for appearance opportunities online. Being a guest on podcasts and webinars where you can offer insights, solve problems, and answer questions is an impactful way to leverage the host's audience to build your own following.
13. Ask for Referrals
Word-of-mouth is one of the most powerful motivators to hire someone, and these referrals can come from friends, family, colleagues, and most importantly, current and former satisfied clients. When speaking with a client, do not hesitate to ask for a referral and the best time to do so is right after you complete a project that they are very happy with.

While it's tempting to think that getting referrals is as simple as a client handing you a stack of business cards, it doesn't work that way. Start by asking your clients what kinds of businesses they know in your niche; ask them to email or write contact information for you. Check out LinkedIn to find industry contacts and network with other designers on social media platforms like Twitter and Facebook.
14. Partner with Other Freelancers and Businesses
As a way to expand your reach and bring in more business, try partnering with other web design agencies and freelancers. Large design agencies tend to only take on clients with budgets of $2k, $5k, or even more. With this type of business model, they often turn down small to medium size companies that don't have that kind of budget.

At the same time, if you're a SiteSwan Reseller or relatively new web designer, you may not be the perfect fit for a business looking for a robust eCommerce site or a larger scale site that requires all the bells and whistles. You can send these bigger jobs to one of the larger agencies you partner with while they can pass on the smaller projects to you. It's a win–win. You can also look for complimentary businesses such as social media agencies, SEO firms, or graphic designers. Within your partnership, you can work out a deal to refer business to them for these added services if they recommend you for designing websites to their clients or those within their network. 
15. Highlight Your Strengths
You have a great business brand, strong skill set and top-notch product so be sure to leverage these strengths and advantages to help you stand out against your competition. If you want to be known for providing excellent customer service, speedy work, exceptional design aesthetics, affordable prices, etc. make it a point to highlight these qualities on your marketing website and materials.

Web designers that use the SiteSwan platform can build and design websites in a fraction of the time of other platforms and for a low-cost. Both these factors alone are huge selling points to attract potential customers and stand out from the competition. 
16. Be Fast and Responsive
As the saying goes, 'You snooze, you lose'. Prompt communication and proof of reliability are what attract clients, which is why you need to be quick with your responses. If you meet a potential client at an event, do not wait for two days before you follow up with them.

Follow up is crucial in every situation when it comes to business whether it be to respond to a client or connect with a new prospective. Similarly, immediately respond to your emails, referrals, and social media comments, and do not go off the radar after submitting a proposal.
17. Offer a Discount or Special Promotion
Offering special deals, promotions, and limited-time discounts can increase brand awareness, drive traffic to your marketing website and attract more prospective customers. Everyone loves a good deal and to save money. Consider discounting the setup fee or waiving it entirely for the first 10 clients as long as they pay your monthly service fee.

Think of these discounts as an investment in your long-term success. While you may make less money upfront, you'll be able to grow your client base faster, and further increase your recurring monthly revenue.
The Bottom Line
There is no one perfect way to get web design clients, but there is still a lot you can do to highlight yourself in a competitive market. You need to take initiative, be it via trying digital marketing, attending local events to expand your clientele or any of the other tips discussed in this article, and once you do that, there is no stopping you from getting clients who are willing to pay what you deserve.

As a SiteSwan Reseller, you can start your own home-based web design business with a few simple clicks and earn a substantial income while building websites for local businesses, from startup websites to eCommerce stores. No prior training or certification is required as long as you have the drive and want to learn along the way! Plus, we provide all the support and resources you need to help you get started. 
We'd love to hear from you!
Share your comments or questions using the form below.