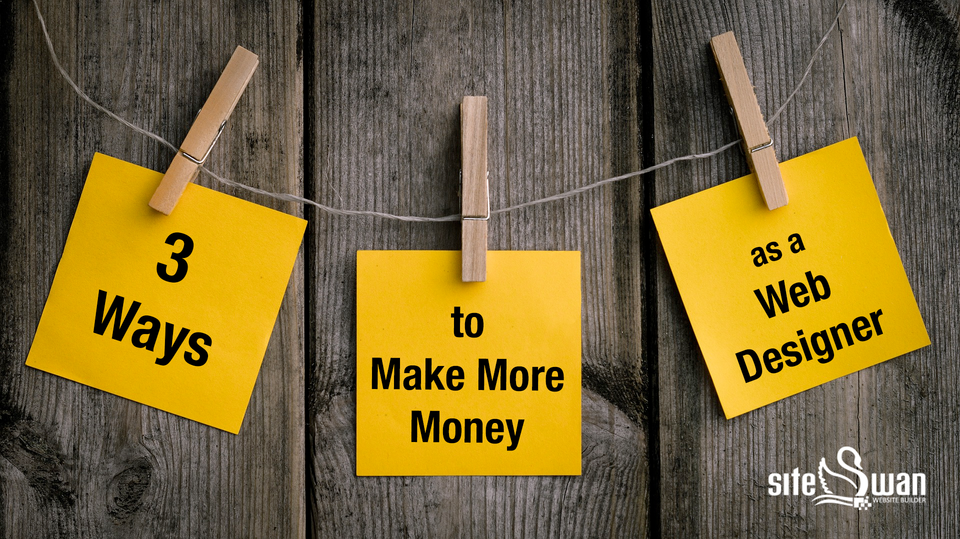 3 Ways to Make More Money as a Web Designer
 January 19, 2021
Running your own web design business can be an extremely financially rewarding career. Selling websites to small businesses comes with both upfront and recurring income, that most times can be sustained for many years. And because frequent updates are usually not requested by your clients, lots of web designers enjoy what they call "hands-off recurring income" that they can rely on month after month.

This is assuming, of course, that you're building and hosting your sites on an easy to use, reliable platform specifically built for small business websites, that leaves plenty of room for strong profit margins. Subscribing to a professional website building software like SiteSwan, perfect for anyone looking to start their own business working from home, eliminates a bulk of the expenses associated with traditional businesses like renting an office or storefront.

But regardless of how low your costs are, and how large your profit margins are, there will come a time when you say that you want or need to start making more money. It's every entrepreneur's dream to scale a business, and SiteSwan is designed from the ground up for scalability. Here are three ways you can make more money as a web designer, which you can apply at any stage in your career.
1. Get More Clients
It sounds obvious, but the clearest path to making more money is simply to take on more clients. Ramping up your marketing efforts and focusing on prospecting, lead generation, and outbound sales will help you keep your sales funnel full - providing a steady flow of new customers.


TAKE ACTION: Demand for web design is always high, but with COVID-19, digital has become a top priority for all businesses. As the pandemic continues to restrict the economy, businesses are looking for ways to improve their internet presence so they can reach customers online. Investing in a new website is the first step.

Now is the perfect opportunity to increase your sales efforts and target local businesses like restaurants, beauty salons, cleaning companies, medical providers and home improvement services. Pitch the value and benefits of a new website and how boosting their online presence will not only help them survive the pandemic, but THRIVE when it's over.
2. Increase Your Prices
Raising prices is another way to increase revenue and overcome flat sales without necessarily increasing your workload. While this might be hard to do when you're just starting off, as you gain experience, improve your skills, and increase the value you have to offer your clients, you can easily justify higher prices. Keep in mind that the concept of inflation drives prices up across almost every industry every year. In order to even stay in business, most companies need to increase their prices over time to combat inflation. Annual or semi-annual price increases are extremely common in restaurants, retail stores, service providers, and others. Your business should be no exception.

Try not to fall into the trap of being shy or uncomfortable about raising your prices, as this is a common part of doing business of any sort.


TAKE ACTION: The best way to avoid discomfort when raising fees is to start increasing your rates for the new clients you take on. If you feel you must raise your rates for existing clients, you might want to ease the transition by offering them some sort of incentive. You might want to offer a free or discounted website redesign, or a mention on your business's Facebook page, or a discount on some other service you provide that they might be interested in. If you experience any push back, be sure to explain all of the features and benefits they are receiving with your service and how the price increase helps ensure you can continue to offer this high level of service. Tip: make sure that in the months leading up to your price increase you are very attentive to their needs from a customer support standpoint.
3. Expand Your Services
Another great way to make more money as a web designer is to offer complementary services. This is a great way to leverage existing client relationships and avoid having to spend all of your time on business development. It's often much easier (and less expensive) to sell more to existing customers rather than acquiring new ones. Complementary services to web design include logo design, PPC advertising, email marketing, social media marketing and reputation management. These additional services will not only help your clients to better achieve their goals, but many are high-ticket items that can drastically boost your bottom line.

TAKE ACTION: Web design is the perfect gateway to selling additional services. If you're currently building websites with SiteSwan, you can start expanding your services by offering Reputation Management. SiteSwan's Reputation Management tool helps local businesses monitor customer reviews, prevent negative reviews, and improve their online reputation. With a suggested retail price of $99-$199 per month, selling Reputation Management is a fast and easy way to make more money as a web designer.

While web design can be a lucrative and sustainable business even in its simplest form, those who are hungry for more can find satisfaction in several different ways. By finding more clients using creative methods, increasing your prices over time, and offering complementary services, you can begin to scale your web design business while keeping your costs in check. And by using SiteSwan, and the integrated Client Billing feature, you can actually see all of this additional revenue come through in real time, right from your SiteSwan dashboard.
We'd love to hear from you!
Share your comments or questions using the form below.