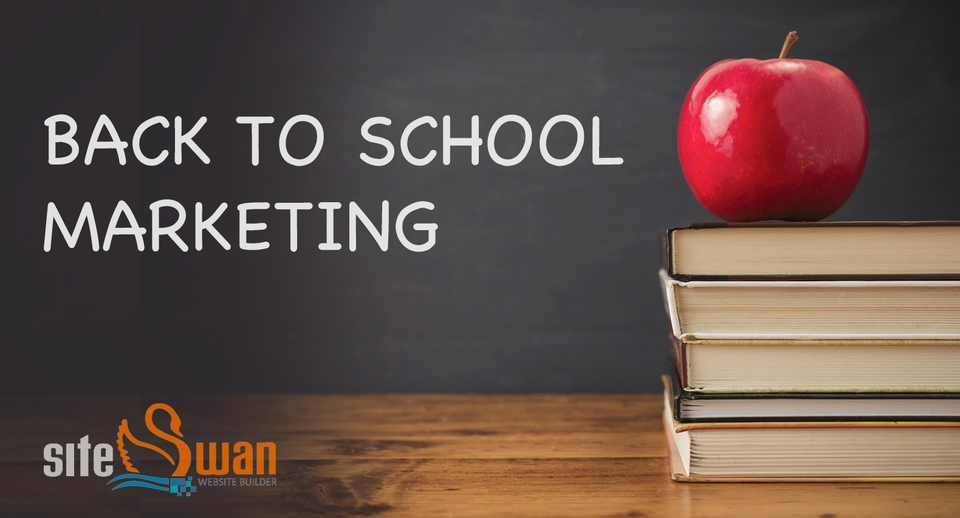 7 Back to School Marketing Ideas for Web Designers
Published on September 12, 2022
All across the U.S., schools are back in session. While Fall may not technically start until late September, the start of school feels like the unofficial end of summer. And the leaves are not the only thing that will begin changing in the coming weeks. Kids are heading back to class, traffic is heavier, commutes are longer and schedules are busier. Spending is also on the rise, providing a much-needed boost to our economy. Back to school shopping is considered the second most important retail period of the year, just behind the winter holidays (source).

For many web designers, especially those that are parents, September seems to fly by in a blink of an eye. Getting your kids adjusted to their new schedule, packing lunches, and purchasing supplies can be a major headache. That doesn't mean your web design business needs to suffer, though. You can actually leverage the busy back to school season to your advantage. If you're currently a SiteSwan Website Reseller, or thinking about joining, here are 7 back to school marketing ideas to promote your web design business and make the most of the upcoming school year.
1. Sponsor a School Event
Throughout the year, many schools will host various local events and fundraisers including pep rallies, sporting events, holiday parties, career days, school plays, performances and even awards dinners. Many times, school administrators will reach out to local businesses to sponsor these events in an effort to unite the community and help cover their cost. In exchange for a small donation, your web design agency can become a sponsor and be featured on marketing material, signage, and bulletins promoting these events. This is a great way to not only build credibility and get exposure within the community, but it offers you the opportunity to network with other sponsor businesses who might need a website.

Here's a tip: Don't wait for the school to approach you. Reach out to the local schools now and ask about upcoming events and sponsorship opportunities. You don't want to miss out on prime exposure opportunities that sell out fast. 
2. Sponsor a Local Sports Team
As the new school year begins, so do a lot of local sports. Soccer, baseball, dance, and basketball tryouts begin in early September and many teams look for local sponsors. This can be a great opportunity to promote your web design business. Sponsoring a local sports team can get your company name or logo premium placement on jerseys, hats and banners. This can be a very effective, and low-cost, way to get exposure in your community.

Here's a tip: Attend games whenever you can. Showing your support to the team and players is not just a great way to build credibility in your community, it's also an opportunity to promote your agency. Introduce yourself, pass out business cards and mingle with the other on-viewers who are also attending.
3. Target Busy Back to School Businesses
For some businesses, the back to school season can mean a decline in customers as kids head back to the classroom. However, for others, back to school marks a sudden spike in business. This is a great time of year to sell websites to retail stores, clothing boutiques, uniform suppliers, stationary stores, pharmacies, dry cleaners, restaurants, barbershops and salons who are looking for new ways to market their business and maximize sales during their busy season.

Here's a tip: Check out SiteSwan's Themes for the best industries to target then use our Local Prospecting Tool to find businesses in your area that need a website. 
4. Network with Other Parents (and Business Owners)
For web designers who are parents too, back to school offers the opportunity to mingle and network with other parents who might be business owners as well. You never know which parent owns a local restaurant, hair salon, plumbing business, etc. Whether you're dropping off or picking up your kids from school, cheering them on at a sporting event or attending a school function, introduce yourself to the other parents and ask what they do.

Here's a tip: Be sure to keep some extra business cards on hand. It's important to always be prepared because you never know when you might run into someone who needs a website.
5. Offer a Back to School Discount
Offering a price discount can be an effective marketing tactic any time of the year, but September is a great time to offer clients a special back-to-school promotion to help you close some additional website sales. After all, everyone loves to save money. Consider discounting the setup fee for all new customers during the month of September or adding a free month to their website service.

Here's a tip: Promote your back to school offer on your website, social media, via email and using postcards. Incorporate back to school imagery and get clever with your messaging. Create a sense or urgency by limiting the offer to the first 10 clients who respond.
6. Hand Out Company Swag
Custom promotional products and company swag is a great way to increase brand awareness and connect with potential customers. And let's face it – everybody loves getting free stuff. Consider giving your promotional products a back-to-school spin and creating "school-friendly'' promotional items like pens, notepads, calculators, mouse pads and calendars with your web design agency's logo on them. Hand them out to nearby business owners as a free gift. This is a great way to introduce yourself, break the ice, pitch your services, and leave them with something they will remember you by. Be sure to include your business card or a way for them to contact you.

Here's a tip: Always offer interested prospects a free design demo so you can show them what they're new website can look like. This is a great way to get their attention and stand out from other web designers in the area. Be sure to include a back to school discount along with your company swag as an added incentive for business owners to get started. 
7. Teach Your Own "Class" or Workshop
School is back in session, why not teach a class yourself? This is a great time to host your own workshop and invite local business owners to attend. As the host, you can use your expertise and experience in web design or digital marketing to put together an engaging and educational session. Topics might include; understanding the importance of SEO, website features every business owner needs, how to set up a Facebook company page, tips for social media marketing, or reasons why every business needs a website.

Providing this valuable content for free will help you establish trust and come off as a local expert in your field. Be sure to finish your session by pitching your own web design services and offer a discount as a thank you for attending. You can host these events at a local library, diner or even do it virtually online.
Don't Just Get Back to School – Get Back to Business
Start marketing early to take advantage of the entire back to school season. Use digital channels, grassroots efforts and social media to connect with potential clients anyway possible. Offer irresistible promotions to win over your target audience.

Don't let the busy days and changing schedules make you lose focus on your goals and ambitions for your web design business. Capitalize on the opportunities this season brings, and make the most of the back-to-school time. Remember, as more kids head back to school, more parents have a chance to focus on their businesses, so use these recommendations to win new clients during this exciting time.
We'd love to hear from you!
Share your comments or questions using the form below.