eBusiness.Works uses SiteSwan for Freedom, Family and Faith
Case Study by Jim Haigh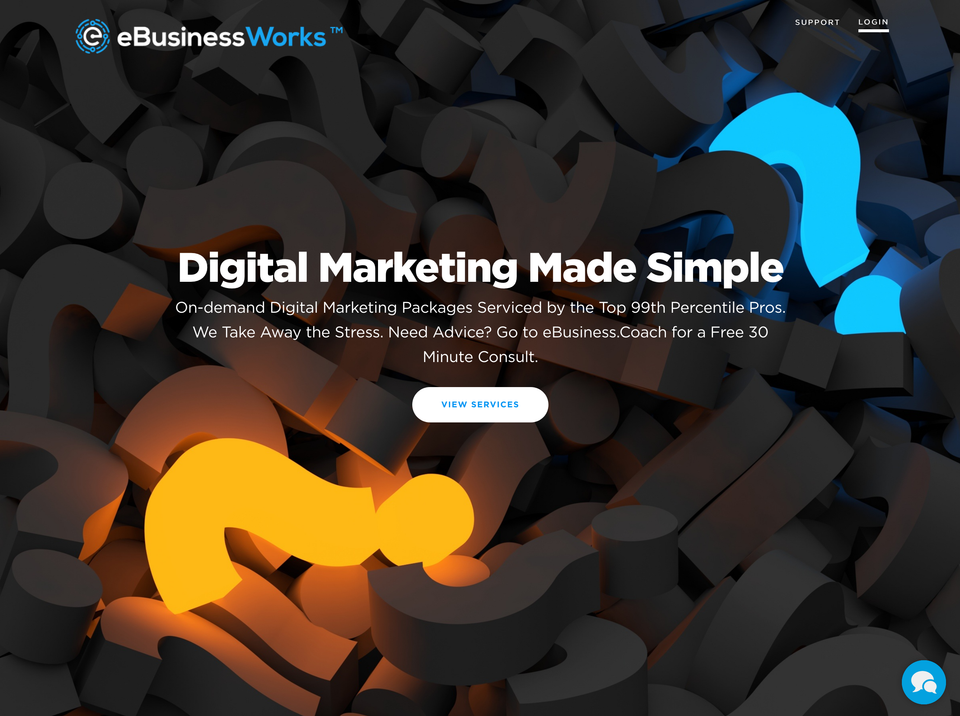 Overview
A Christian family man from Texas, forced into a career change, discovers SiteSwan as a way to make a great living helping small businesses thrive online. It's a compelling story about how a preacher turned into a White Label Website superstar, while staying grounded in family and faith, and finally discovering the freedom to do what he wants, when he wants.
The Challenge
Ty Gulick, a devoted husband and loving father, was in the middle of a midlife career transition. He was recovering from the physical and emotional trauma of a severe motocross accident. He had successful careers in substance abuse counseling and Pastoral and executive management roles at area mega churches, and got fulfillment from helping others. But, he felt he needed a new beginning, one where he could live by and share his spiritual vision of enterprise, while also getting the satisfaction of helping people who need it.

"I was physically laid up and in a bad frame of mind for a while," said Ty, about the time period of his accident recovery. "I was limited by what I could do or where I could go, and I just needed a fresh start."

Looking for a career change with two home-schooled teenaged kids is very challenging. Ty felt compelled to spend as much time as possible with his kids while also providing for his family. He wanted flexibility, but equally important, he wanted to feel like what he was doing truly had an impact on others.
The Solution
Ty stumbled into the SiteSwan lake of opportunity by seeing an ad for SiteSwan on a franchising and business opportunity website. He had never actually built a website before, but understood the importance of every business having a strong online presence. The flash went off in his head that this could be a turn-key digital enterprise that checked all the boxes for what he was looking for. As Ty put it, "it was truly a blessing."

He started off with barely any connections to business owners and ended up landing his first client with the help of SiteSwan's Local Prospecting Tool, which makes it very easy for finding local businesses who need a website. Ty discovered that the website building software was much easier than he thought it would be and was instantly empowered by the thrill of building awesome websites, and felt determined to make something of this new discovery of freedom.

"It's all about adding value to another human being," as Ty puts it. "We're not just building a website, we're ultimately making a difference for family owned businesses -- helping them succeed and put food on their tables."
Results
What started out as a one-man operation quickly turned into a dynamic family enterprise with their website building brand, "eBusiness.Works" (https://www.ebusiness.works) at the core of it all. Wife and Mom, Karen, serves as administrator, while 15 year old daughter Beth, and 16 year old son, Zach, have grown into roles reflecting their curiosity, advanced curriculum and entrepreneurial ambitions.

Ty and his family are living their own American Dream. Above and beyond their mission to bring worth to the marketplace, the Gulick's have also achieved what they call "freedom of time and place" -- their term for the flexibility to be where you want, when you want, and know that money is coming in, carried by the steady stream of residual website income.

Today the Gulick family business, which includes a constellation of digital marketing services revolving around building awesome SiteSwan websites, now fulfills the purpose of their spiritual vision of enterprise. "We are now helping put food on the table for nearly two dozen small businesses and all their many employees," Karen, the proud Wife, Mom, and Administrator, exudes joyfully. Their diverse and ever-growing list of clients come in all shapes and sizes: local dentists, title companies, driving school, multi-location day care facilities, and large service companies that operate in over 30 cities in multiple states.

Just as their client base is diverse and growing, so are their services offered. "When we first started selling and serving small businesses," Ty said, "we quickly learned that they need a lot of other things as well. From reputation management to social media management to SEO, there are so many business needs not being met, or are being overcharged for -- and we're now providing even more white label solutions."

Karen put the broadest context on family and business -- and their unique success story -- in watching the exploration and creativity of her children: "I am so proud looking at what they've created, all they've learned, how their studies have advanced. SiteSwan probably never considered it would be used as part of curriculum in art and computer science, and preparation for life." While helping solve educational needs of tomorrow's entrepreneurs is not something we had originally intended, here at SiteSwan we could not be more proud we're helping in that family success as well!