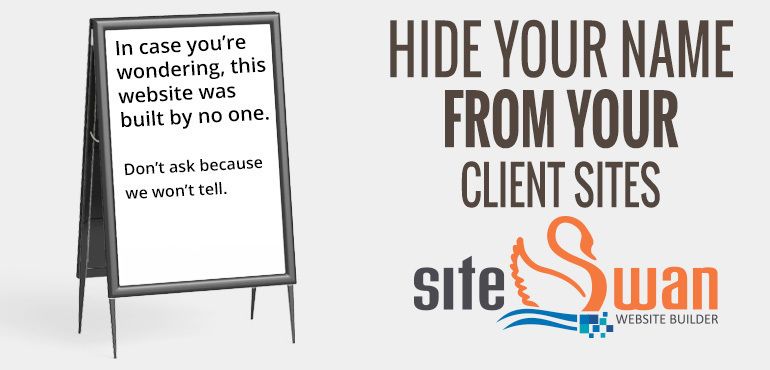 Hide Site Credit From Your Client Websites
Feb 21,2017 - Giving yourself credit on the bottom of every customer site is an EXCELLENT way generate referral leads. People see the awesome work you do, they click your name to find out who did it, they see your site, and then they contact you to do their website. Win!

Sometimes, though, you will talk to a client who wants to keep your working relationship quiet. Maybe they have a lot of competitors and are afraid that they're going to lose their competitive edge. They even offer to pay you more if you remove your name from their site…hmmm. Guess you can't blame them, right?

Thanks to a new feature release, you can now hide site credit from any of your client websites. To find this feature, access the "Site Details" or "Site Information" page from your SiteSwan dashboard and click "Edit." Look for the option to uncheck the box for "Show Website Credit in footer". Done!

Now, not only will you hide SiteSwan's name from site visitors, you'll also hide your own brand name. It's nice to get credit for your work, but sometimes it makes sense to hide that. And now you can.

 
We'd love to hear from you!
Share your comments or questions using the form below.