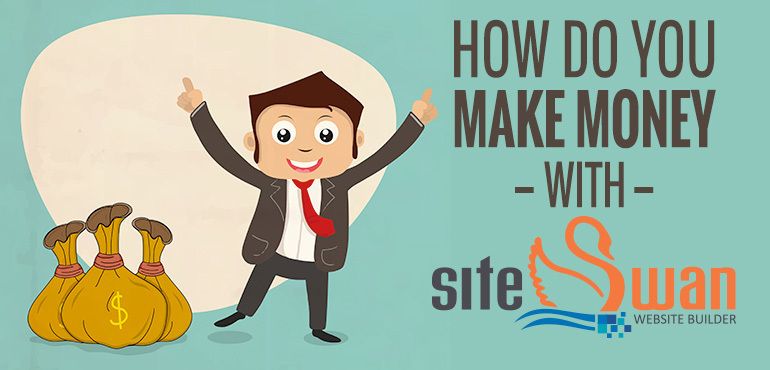 How Do You Make Money with SiteSwan?
How do you make money as a SiteSwan website reseller?

Our white label website builder is not just designed for speed, it's built for profit. Build and sell websites faster and easier than ever before and keep prices affordable.

There are several ways you can make money by building websites for small businesses. Primarily, you'll be charging your clients both a setup fee and an ongoing service fee. This combination provides multiple streams of income for you, while also making for an affordable, easy-to-understand pricing structure for your clients.
Charge an Upfront Setup Fee
This is what resellers charge a new client for setting up their website. Charging an upfront setup fee helps cover the cost associated with taking on that client, including building the website, adding their content, and connecting the domain name. Most resellers charge anywhere from $500 – $1,500 for a typical 5 page website. If you're just starting out, you might want to keep your prices on the lower end of that scale and gradually increase your rates over time. Of course you have complete control over how much or how little you charge and you keep 100% of the sale.
Charge a Monthly Service Fee
The monthly service fee is what resellers charge clients on a residual basis to keep their site live and for ongoing updates. This fee includes hosting, search engine optimization, browser compatibility, a beautiful, fully-responsive mobile site, traffic statistics, support and the ability to login and make updates to their site. Most resellers will offer to make updates and changes on behalf of their clients, adding more value to the monthly service. Generally, resellers charge anywhere from $29 – $99/month, and our suggested price is $50/month.

Here's a quick breakdown illustrating how much you can make using our suggested pricing of $500 setup fee plus $50/month.
If you sell 25 sites – Earn $12,500 in set up fees and $1,250/month in residual income

If you sell 50 sites – Earn $25,000 in set up fees and $2,500/month in residual income

If you sell 100 sites – Earn $50,000 in set up fees and $5,000/month in residual income

If you sell 500 sites – Earn $250,000 in set up fees and $25,000/month in residual income

If you sell 1000 sites – Earn $500,000 in set up fees and $50,000/month in residual income
Now obviously, nobody is selling 1,000 websites overnight, but if you continue to grow your business at a steady pace, you can generate a significant amount of residual income. Even if you did this part-time and sell just 1 website per week, you would bring in over $2,500/month in your first year. And that's "worry-free" residual income every month!
Want to make even more money?
Charging both a setup fee and a recurring service fee is ideal when selling websites. Collecting both a one-time setup fee as well as an ongoing monthly or yearly fee means that the income will keep coming through as time goes on, allowing you to truly scale your web design business.

However, there are even more opportunities to make money.

The great thing about selling websites to small businesses is that it offers you the opportunity to offer additional products and services. Websites are often considered the "gateway" to digital marketing. Once you sell a client a website, and they like it, and they like working with you, they'll want to hire you to do more for them. By owning your client's website relationship, it makes it much easier to sell them other marketing services that they need. These services include social media marketing, search engine optimization, and reputation management, to name a few.

Our Reputation Management tool allows businesses to monitor online reviews and improve their brand's reputation. It's a great service for you to up-sell to your web design clients and it could be quite lucrative. Most SiteSwan Resellers will charge $99 - $199 per month per client for Reputation Management.

So while web design by itself enables you to make money in multiple ways, expanding your services to include complementary services takes it to the next level.
We'd love to hear from you!
Share your comments or questions using the form below.
We'd love to hear from you!
Please feel free to get in touch to let us know what you think or if you would like to learn more.