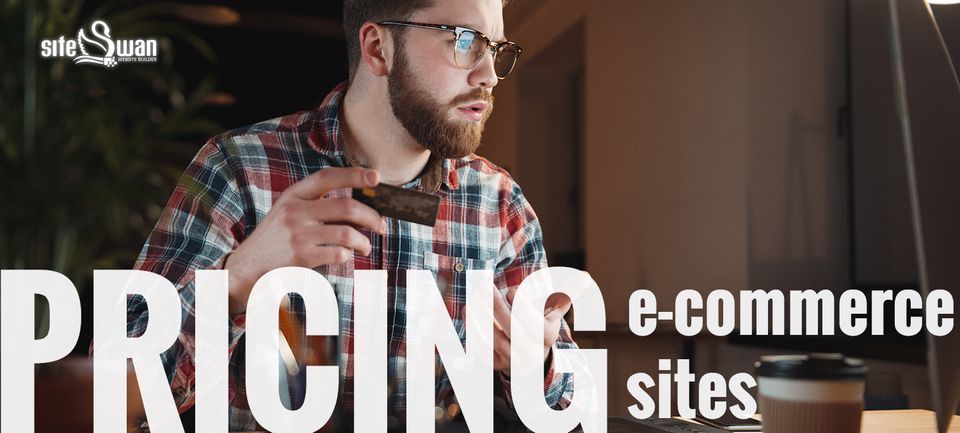 How to Price E-Commerce Websites and Profit
June 20, 2017 - Many small business owners say they want to do e-commerce.

Of course they do! The prospect of boosting sales around the clock and offering products to people from around the world is very enticing.

And it's easy for you to get caught up in this excitement too. As their web developer, you'd love to be able to brag about your website client who boosted business by 50% by working with you!

But how are you supposed to charge for an e-commerce website on SiteSwan without losing your shirt? This article will hopefully give you an idea of what to expect when working with an e-commerce customer and all of the things to consider when pricing your service. WARNING: It's a lot.

Keep in mind as you read through this: for most businesses, e-commerce is often a struggle and requires a lot of work, time and money to really get it off the ground (everything from photography to extra staff to managing sales to marketing the site require money). It's almost like starting a whole new business. It's always good to warn clients that e-commerce is not the fast-lane to boosting sales, but assuming you've made it past this point with your client, you can read on…
Products
The number one thing that any business owner has to figure out about doing e-commerce is "what's the product list?" Sounds simple, but some products just aren't ideal for selling online, either because inventory is usually low or because the product is too large/difficult to ship, or because the product is perishable (like food). To effectively manage an e-commerce site with your customer, our suggestion is to limit your customer to 20 items or less to start. Perhaps recommend to your client that they should start with their best selling items, or the ones that are easiest to pack & ship, and have the fewest number of variables (size, color, etc.)

Speaking of variables, it's important that right from the beginning, you get your customer to understand the difference between Product Variables, and Products. For example, do they want to sell a T-shirt that has a color variable (choose color) or do they want Red T-Shirts to be listed separately from Blue T-Shirts? Knowing all of this upfront is very important.
Images
For every product, you need an image. And not just any image, but a good quality, professional-grade image. Buyers need to be wowed by how the item looks online, and if all they see are poorly-lit selfies, it's going to look amateur and will not win any sales. Also: it's best practice to make all of the images match in style / background / setting. If you will handling the photography, be sure to charge extra for this labor intensive service.
Prices
When putting your products online, sometimes it's difficult to price them the same way they are priced in-store because of all of the online competition. The business owner has to come up with a good plan for how to stay competitive online but to also not to alienate their core clientele - the people who shop in-store.
Shipping
All physical good needs to be shipped. That means you need boxes, padding for the inside of the boxes, packing tape, labels, you need to select the shipping vendor(s) you want to work with (FedEx, UPS, USPS) and develop a systematic approach for printing out the labels, filling the boxes, and scheduling for pick up or drop off with the carrier. Not to mention, make sure that you don't lose too much of your margin on the shipping cost. It's tough to balance out a reasonable shipping cost while also making sure you don't lose money. Also you need to figure out if you're going to charge shipping based on the weight or price, or have a flat per-item shipping cost.
Taxes
Depending on what the products are and what state they are being shipped from plays a roll in how or if you charge taxes on products sold online. Encourage your client to consult with their accountant before making a decision here.
Payment Processor
In order for people to pay online, you need to have a relationship with a company who actually handles the payment processing of the credit cards and debit cards. We recommend stripe.com for this because it's a relatively fast setup and their rates are highly competitive.
Return Policy & Customer Service
More and more, online buyers are looking for a reliable, dependable online vendor. By law, every e-commerce website needs an easy-to-find Return / Refund Policy on the website, and buyers want to know that if they have trouble, you're easy to get a hold of. This may require that the business owner sets up a specific phone number or email address purely devoted to online order questions / concerns. The more responsive they are with answers, the easier it will be for people to trust them and make a purchase.
Human Resources
Shipping out products does take a bit of time. The business owner has to have a system in place for getting products out on a timely basis, and may need to have one or more employees focus on this, and it can't (or shouldn't) distract from day-to-day activities in the store.
So How Much Do You Charge?
A typical small business will likely ask you to help / consult with them on many, if not all, of these items. On top of that, you still have to help the client add their items to their e-commerce store on your site (which thankfully is very easy with SiteSwan, but nonetheless will take time, because it can be tedious and repetitive) so you have to make sure you're pricing your services correctly. Because of this, we recommend charging your clients a MINIMUM of $1,500 extra to get the site setup & launched (which is a bargain, by the way). Making them put some extra skin in the game should also help make sure that they're more responsive to pitching in and doing their part to get the site launched faster. If a business owner balks at an additional $1,500, then that probably means they weren't too serious about an e-commerce venture anyway. And you can remind them that they could always add that on later, anyway.

You might want to start EVERY e-commerce conversation by telling the customer what you generally need to charge for e-commerce to see if it scares them off of proceeding. You should also set clear boundaries for your clients so they know exactly what they can and cannot expect you to do for them as time goes on. E-commerce sites are sometimes more work than they are worth, as you get requests from the customer to help you with discount coupon codes, sales promotions, refunds, and other hidden headaches. And don't be shy about reminding the client that just because they have an e-commerce store, doesn't mean they're going to get sales! For some businesses, e-commerce can be more of a distraction than anything else.

If you've informed your customer of the costs, set their expectations, and planned a roadmap out for yourself on how to take on the project, then hopefully your e-commerce project will be successful and profitable.
We'd love to hear from you!
Share your comments or questions using the form below.