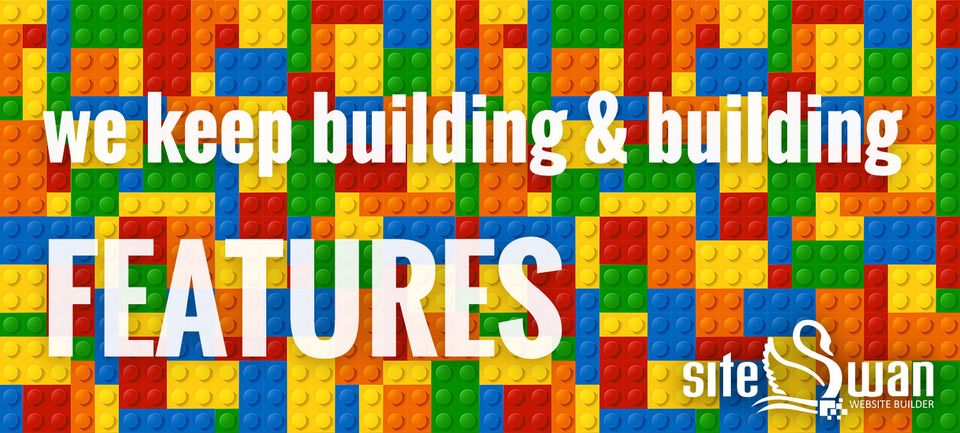 SiteSwan Feature Releases for the 2nd Half of 2017
Dec 13,2017 - We're constantly improving the SiteSwan website building platform for our resellers by adding and enhancing features. We believe that for SiteSwan to remain the easiest, fastest way to build beautiful websites for small businesses, we have to continually innovate and evolve as a white label website builder.

Because we release a lot of features, sometimes we don't have the time to formally announce each and every feature without bogging down your inbox. So, we've compiled a list of some of the key features that we've released From July – December 2017.
Introduced the ability to Replace an Image when editing a Gallery post
Sometimes when editing a Gallery post, you want to swap out an image without losing the text underneath it. This feature lets you do that.
Added Text Justification to the text editing boxes
For those of you who want to center-justify the 3rd line of text, but keep the rest of the text right-justified, this feature was a welcome enhancement to our WYSIWYG text editor.
Introduced Row Background Images & Colors
One of the most-used features of 2017, this feature applies some of the awesomeness of Hero Image posts to all the other post types. Overlay colors (with opacity controls) on top of images, which go behind your content. Awesome!
Improved security for logging into Sites
We further enhanced the safety and security associated with logging into sites directly, as well as from the dashboard.
Rolled out new "HTML" post type
Finally! You can plug in your own HTML and treat it like a regular post (only available on certain plans).
Granted access to add & edit <head> and <body> HTML
This feature coincides with the feature above – offering more options to insert your own custom code.
Added Drop Down Menu feature for site navigation
This was one of the most commonly-requested features since we launched SiteSwan, and it was so rewarding to get it released and watch you all use it!
Allow sizing controls for Video posts
Because you wanted a little more flexibility with how videos get posted to your site.
Introduced responsive font sizes on smaller screens
Everything else was responsive, so why weren't font sizes responsive? Now they are.
Redesigned & Updated Email Form post appearance
We breathed new life and style into the Email form post type, to make it more modern and universally appealing (and more responsive).
Automatically generate Alt Tags for header images & social icons
A great feature for the visually impaired, this assigns words to images (in the code), which is more accommodating to site visitors.
Redesigned & Enhanced the Create New Site screen in the dashboard
Our new Themes looked so good that we needed a better way to show them off and help you make a better decision on which one to start with.
Tons of New Themes
Speaking of Themes, we launched a LOT of new Themes that were in direct response to the types of sites our resellers were building or planning on building for customers.
Increased image clarity of Image posts
Super large photos weren't looking super clear on some device displays, so we enhanced the image quality.
Added "Entrance Animation" options to posts
This is SUCH a cool feature that immediately makes your sites look & feel so much more expensive. Let each row "bounce" or "fade" into place for an extra level of drama and excitement.
Made it easier to get back to the Dashboard when editing a site
We heard that some people were confused on how to get back to their sites dashboard once they were editing a site – so we introduced a link to help you get back there faster.
Fonts! Choose site-wide Title & Paragraph fonts (technically launched on Jan 2)
We're including this on this list, even though it officially released in 2018. We spent so much time working on it in 2017 that it felt like a 2017 feature to us.
What features do you want to see next? Let us know
We'd love to hear from you!
Share your comments or questions using the form below.